Carports for the car sales / Trade industry
Showroom carports for the car sales
When selling cars, especially used ones, they are usually displayed outside in open-air car parks. This represents a very big risk for car sellers, as cars are exposed to all kinds of weather. In times of rain or snow, the visit of customers is only prevented, and in the case of hail, damage to vehicles associated with large costs may also occur.
Too much sun can have a negative effect on the fading of the exterior paint and cracking of the synthetic materials inside the cars.
For this purpose, our product range offers tent facilities – exhibition sales tent canopies, which cover the entire car park of the cars for sale. Cars are thus protected against weather influences such as rain, hail and snow. Recently, it has become obvious that they are extremely welcome in excessive sunlight as well.
The sales and exhibition tent canopies are lower compared to the classic tent halls (usable roof height approx. 2m), and the covering made of a special fire-resistant high-quality UV-resistant PVC tarpaulin is installed only on the roof. At the same time, the exhibited cars remain visible from the surroundings.
A covered car park ensures a smooth sale regardless of the weather. They play a big role in sales in winter, when salesmen do not have to remove snow from cars or solve problems with opening frozen doors.
If the sales exhibition tent canopy is also equipped with lighting, the sales time can be significantly extended in winter.
In summer, car buyers will spend a lot more time checking out cars in the pleasant shade, and sellers will avoid very expensive insurance against hail.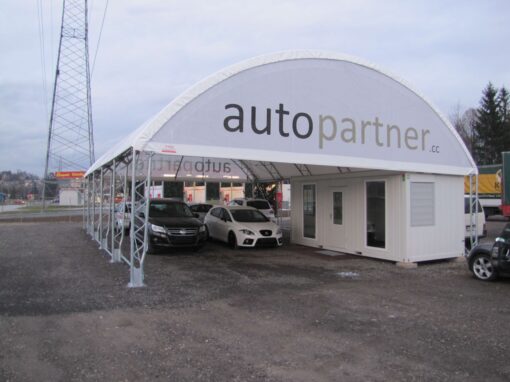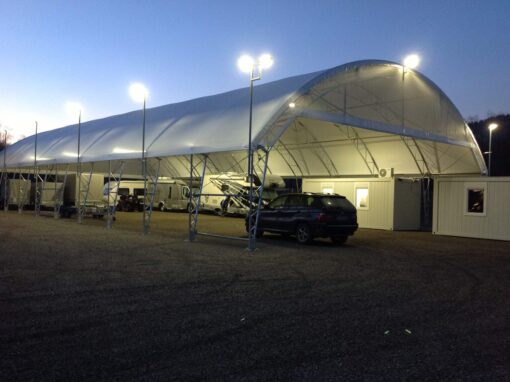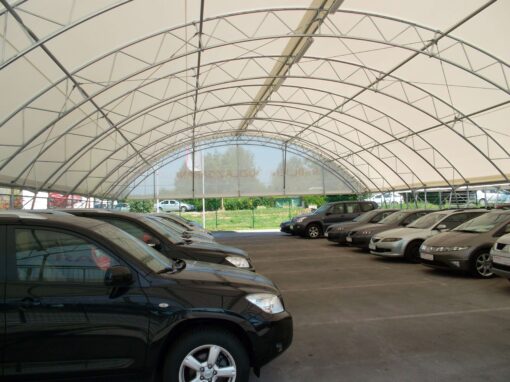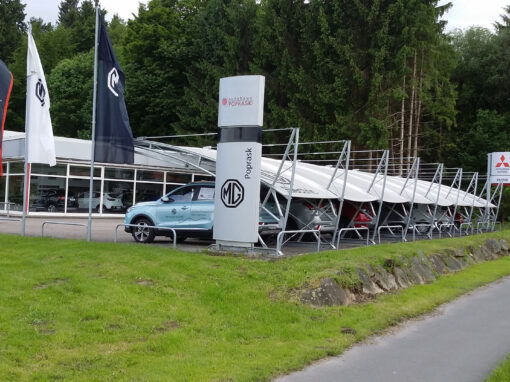 Trade industry
Tent halls also play an important role in trade industry.
Almost all types of tent halls by POWER tents are suitable for use in the commercial sector.
They are used to the greatest extent for various warehouses, material unloading areas at entry points, material loading, etc.
With additional equipment (installation of an anti-condensation protective tarpaulin on the ceiling inside the hall, installation of gutters on the outside, installation of various doors, painting of external tarpaulins, installation of transparent tarpaulins on the facade – glass effect in PVC form, etc.) the tent hall by the POWER tents company can be turned into an additional sales area.
The special feature of such halls is that the installation is very quick and easy, without any necessary construction interventions into the ground. It can be placed directly on the asphalt surface (car park next to the shopping centre), and fixed to the ground only with metal anchors.
If the hall is no longer needed over time, it can be easily dismantled, moved to another place or sold.
The area where the tent hall was set up can be changed back to its original state (car park) without any necessary structural rehabilitation.